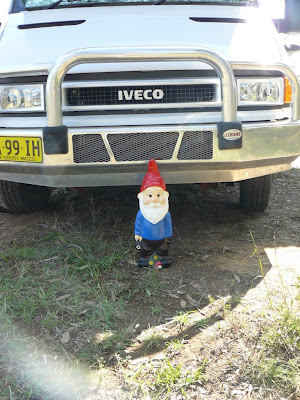 This is Norman the Grey GNomad, who appeared on Christmas morning outside the camper clutching gifts for the farmhands. He is set to travel Australia with us, although we are rather fearful about what people may think when we rock up to a campsite with a garden gnome.

Christmas was excellent, weather hot, house full of people, and J & G provided a full traditional turkey dinner ( in true ex pat style, we ignored the extreme temperature and had a sit down hot meal). P & W had joined us from Sydney, so dinner for 12 including Georgie's family.

On Boxing Day we did a tour of vineyards. Paul particularly wanted to visit those growing Italian and Spanish grapes, which made an interesting change from shiraz, shiraz and more shiraz. Found a very drinkable tempranillo, and have become rather partial to white port on ice with lime as a mid afternoon aperitif.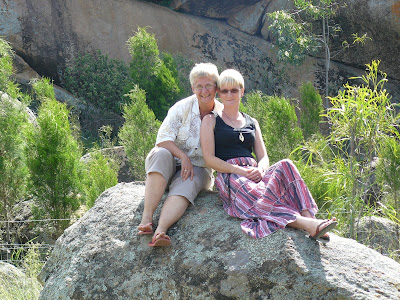 Boxing Day at Frog Rock.
Went over to the Blue Mountains and spent new year with M & N and the kids in their new house. More food, wine and good company, with a swimming pool thrown in for good measure. I think we are getting this freeloading business down to a fine art.
Click on xmas for more pics.
Back at Mudgee, and the family have gone off to Sydney for a break, leaving us in charge of pigs, chooks, geese, ducklings, goats, dogs, and the ferret. There is a sow due to farrow, so hoping for a trouble free delivery.