Day 3 of phase 1 of the grand tour. We have travelled 700 Km south from Mudgee, passing throughWellington, Orange, Canowindra, Cowra and Canberra. I will continue to try and sort out a blog friendly map to post, meanwhile google earth is your friend.
We are currently in a camp site 50 Km south of Canberra, at the beginning of the Snowy Mountains- we did a fleeting drive through of Canberra, a very neat and tidy city on a Milton Keynes type grid system, only cleaner and grander with a river/lake worthy of a capital city. Parliament House most impressive from a distance.
Sean O'Satnav proving a handy friend, although a little petulant when we choose to travel off piste or take an unscheduled stop. He is more polite than Bruce Dinkum Satnav, whose voiceovers a little too brash for our pace of travel, so he got the boot pretty quickly.
In brief, we passed through Orange the day before yesterday ( where they grow apples and grapes...too cold for oranges, good old William of Orange responsible for the name ) . The town was pretty much closed when we arrived, but it is a very foodie town and we had a splendid steak meal. It is very refreshing when reading a menu to be informed of the age of the meat, the breed of cattle, what it was fed, and how many food miles are involved in getting it to the restaurant. We had Hereford fillet, 30 months old, grass fed, produced in the central west NSW.
Cowra was the next port of call, and has the largest Japanese garden in the southern hemisphere. It is truly inspirational, over 12 acres and a mind blowing combination of familiar plants and majestic eucalypts. Mid afternoon and we had the whole place to ouselves ( the natives obviously not mad enough to venture out in the afternoon heat). James dog buggered up the feng shui by deciding to take a plunge into the shallow koi carp pond and scatter the individually positioned white pebbles, but we hauled her out before the groundsmen noticed.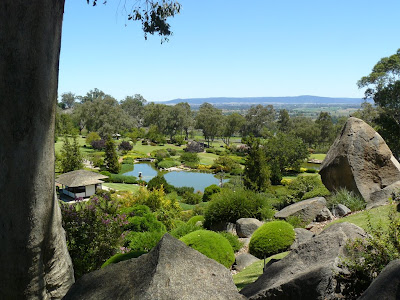 Getting back into the swing of campervan life- campsites over here are cheaper than the UK, the site in Orange only $12 which is very good for a site in town. However many are dog free so we may encounter problems in the future- I suspect ginger dog will be shoved into a capacious Winnebago locker and bribed into silence with suitably worthy snacks.
However understanding the campervan wave protocol proving more tricky. In the UK when travelling in the Citroen Romahome ( hereinafter referred to as the comedy camping vehicle ) we discovered that it is mandatory to salute a fellow vanee when passing on the opposite side of the road. After many awkward attempts the wave was perfected- a Hitler youth angled arm with a care in the community random hand flourish to finish. Ness was always deeply involved in studying a map or a piece of fluff on her clothing in order to avoid passenger participation. We never had to acknowledge caravanners or other towing types.
Over here there appears to be a complex and several tiered system.:
The
'Winnebago Wave'
when encountering another member of a rare and endangered species appears to involve both hands off the wheel, forearms gyrating, manic grinning, pointing, and a manual choreography unwise and unsafe when manoeuvering 3.5 tonnes of vehicle down a steep hill.
The
'Generic Campervan Wave'
when encountering any white, plastic, moulded to the cab mobile home unit. One hand only, polite but not overly demonstrative.
The
'Caravan Wave'
- a cursory flick of the fingers, hands not to be removed from the wheel, to acknowledge a fellow traveller who has not yet realised that towing is good, all-in-one mobile home is bad.
The
'Trailer tent Wave'
protocol as yet unclear. Ranges from total failure to recognise to synchronised hands off the wheel waving by driver and passenger.
The
'What the F**k are you doing on this road Wave'
by any driver of
any
vehicle on any road where you have not encountered a single soul for the last 45 minutes. Bemused grin and/or head shake optional but frequently utilised.
We will continue to adapt our responses until hopefully we will earn our Grey Nomad Bronze Waver's badge.