Not many km covered today, just been pottering southwards on the fringe of the Snowy Mountains. Vanessa went to a tackle shop for hooks, 10 lb line, sinkers and some bait, and we were advised that the best bait in these here parts is 'scrubbies'. So we bought a pot of scrubbies ( 8 for a dollar ) and now have a pot of soil and big fat worm-like things in our fridge. Must remember if I get the munchies not to dip into the pot on the bottom left hand shelf.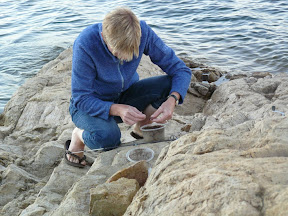 So we tried reservoir fishing again, the scrubbies appeared to be rather noxious to the fish but we caught a lot of weeds.
We are in Jindabyne on the edge of the Kosciuszko National Park and were planning on doing a circuit round the mountains tomorrow. The officious lady at the Information Centre told us the 'no dogs' rule in National Parks was absolute and we could not even drive through with a dog in the van. She also recommended that we drove 30 km back the way we came in order to locate a camp site willing to take dogs.
So we came here, a site 200 metres down the road, and asked the helpful site lady if we could camp with a small dog- she apologised for being afflicted with sudden onset deafness and explained that she did not hear me mention the word 'dog' or obviously we could not stay at the site. So we chatted for a while about the dog we do not own, and she found us a lovely pitch away from everyone else because we looked like we needed privacy.
She also advised that should we ever return to the area with a dog, that driving through National Parks was OK as long as they stayed in the van, and the lady at the information office was a misguided harridan.
So tomorrow we will test the two theories when we attempt to get the ginger dog over the border.