Last night's camping episode worthy of a separate chapter. We left Cowra and camped in a State Park- Wyangala Waters. The state parks are mostly dog friendly, and apart from a bit of a scary drive ( and some inept waving ) it was perfect. A reservoir completed in 1935 with a surface area 2 1/2 times greater than Sydney Harbour. After 7 years of drought it was only 14 % full which brings home how harsh conditions in the Central West have been, but it was still an astoundingly beautiful place to camp.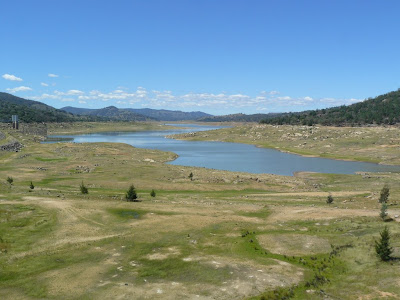 The camper is amazing, solar panels make us truly self sufficient as far as lighting and power goes, and with a 140 litre water tank we really can free camp for several days without the need for 240 V hook up or a potable water source. So we were able to whizz past the static caravans, bypass all the facilities and drive to the end of the reservoir and park up away from everybody.
Last week Vanessa purchased a fishing rod and reel and a fishing permit for NSW. We did not confess to the guy in the shop that we knew nothing about fishing, and took the rod home to practise casting in the dam in Mudgee. We lost all our spinners due to inadequate knots, snagging on weeds, and incompetent casting, so Vanessa's mission was to learn how to fish.
Within an hour 2 guys in a ute drove past our camp and started to fish in the reservoir. We took James dog down for a swim and had a chat- within an hour Ness had her rod and reel out of the van, a bottle of wine in a bag, and we were learning how to fish with Colin and Wayne ( Ness did not catch their names, and christened them Stan and Fred which fitted well).
Incredibly nice blokes, they took us through knots, hooks, tensile strength of line, sinkers, casting, bait nets and how to catch yabbies for bait. Wayne had caught a golden perch which he displayed proudly.
It was getting dark so they got their lights out onto the bank and the 'fishing' continued. This consisted of drinking copious numbers of tinnies, having a good yarn and telling tall tales and poor jokes. We learned a vital lesson in night fishing- get a good comfortable chair, lots of beer, and after casting out your line slot the rod into a rod holder, put a small bell on said rod so that if a fish bites you can hear it and attend to the job in hand, and carry on drinking.
By 11 pm we had caught nothing, drunk too much, and had a riotous evening. We rolled back up the hill to the van in the pitch dark, leaving the guys to crawl into their swags while they could still focus.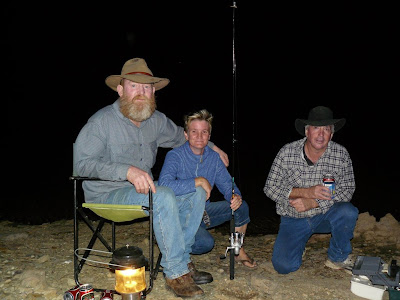 Colin Ness and Wayne 'fishing'