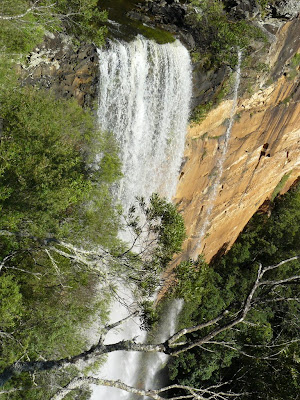 Our new best friend is the book 'Camps Australia Wide' the ultimate guide for the budget conscious traveller. We have been away for 10 nights now, and have only paid for 4 campsites. The fantastic book lists over 3000
campsites
with
a high proportion free of charge. Some are just rest stops off a main highway, but many have been in beautiful State forests, by the sea, or both. Tonight we are in
Bangalow
State Forest, it is Saturday night and only 2 other caravans parked up here despite our proximity to Sydney.
The book lists facilities available,
whether
there is mobile phone reception (essential for blogging), whether dogs allowed ( almost as essential as blogging ) and even gives GPS co-ordinates so Sean
O'Satnav
can cheerily chat us through the route. Looks like it will save us a small fortune which is just as well as the still nameless Winnebago is consuming diesel at an alarming rate.
Continued our coastal mooching- great beaches and we even went swimming with no sharks or poisonous jellyfish encounters.
Ness
found an area she was very keen on and raided the real estate agents. In true
Ness
style we are way too close to Sydney so prices started at $1,000,000 for a small plot upon which to build your beach view dream home. Shame we gave up the day jobs.
The advantage of the location is obviously seafood, and we found a great fishmonger yesterday. Last night we dined on leatherjackets, tonight we barbecued magnificent marlin steaks, and on tomorrows's menu is blue grenadier fillets with mango salsa. The portable gas barbecue is a true camper's friend, cooks the grub to perfection and no lingering cooking smells in the van. Now I am starting to sound like a grey nomad; this is frightening.